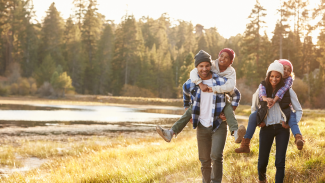 We're Never Too Busy to Help Someone You Care About
What are the most important things in your life? I bet you'll quickly say family or maybe good health or a sense of purpose. Money likely doesn't top the list for most people, but its importance should not be underestimated. Money affects every part of your life and can give you the security and stability you need to pursue the things that matter most.
It's no surprise that managing your assets often leads to stress and worry, especially as you approach retirement. We've helped many clients, including federal employees, feel confident in their retirement planning and build a strong foundation for their future. Plus, our clients continue to refer us to their friends and family to help them do the same. There is no higher compliment than a referral from one of our valued clients. 
If you know someone who would benefit from our services, share this article with them as we share what makes our firm different. 
The Bridgerland Financial Difference
We've been fortunate to work with valued clients who refer their colleagues, friends, and family members to us. We believe so many people have referred others to us for a few different reasons:
A personalized real-world approach.

No two clients will be exactly the same, and neither will their financial needs. That's why we create a plan focused on your unique financial goals. We take the time to outline a customized strategy based on your specific needs, goals, and circumstances. 

Strong relationships.

We prioritize a hands-on client-centered approach, which has led us to build long-lasting relationships with so many of our clients. We're proud to serve as a go-to resource and support system when someone faces a tough decision or goes through a life transition.

A long-term commitment.

We recognize that financial planning and investing is a dynamic process. Life changes happen and investment objectives can shift over time. That's why we provide ongoing guidance and support. Whether it's saving for your children's college education, planning for retirement, or preserving assets for future generations, we seek to provide the resources and continuous management necessary to keep you working toward your goals.

A dedicated team.

As seasoned professionals, we strive to maintain a high-touch and personalized experience, and to help our clients simplify complex decisions about their money. With a dedicated team of professionals on your side, we hope you can feel more confident as you navigate life's challenges and planning opportunities.
How We Help
We believe in helping our clients pursue their dreams and retire, not worrying about where their next paycheck is coming from. We believe people are smart and can make their own informed decisions when properly educated. We believe that our clients need an advocate, not a salesperson. 
We do all of this using the latest financial techniques, solutions, and one-on-one education and advice from a team with over 20 years of combined experience. We help you get the reward you deserve after working your whole life with a retirement plan that makes sense.
Delegate your financial matters to a professional you can trust so you can simplify and focus on what's important. 
Do You Know Someone Who Could Benefit From Our Services?
We're here to simplify the complex and help you bridge the gap between work and retirement. If you know anyone else who has questions or needs unbiased retirement planning advice, we're never too busy to help.
Consider sending this article to them, and if they're interested in partnering with us, they can reach out to us at david.packer@bridgetoretire.com or (435) 535-1630.
About David
David Packer is founder and financial advisor at Bridgerland Financial, an independently managed financial firm in Utah. With 20 years of industry experience, David serves his clients by helping them bridge the gap between their working years and their retirement. He provides tailored, comprehensive financial plans to his business owner and individual clients so they can retire with confidence. David has a bachelor's degree in finance and holds the Chartered Retirement Planning Counselor℠, CRPC® credential. Outside of the office, David loves to spend time with his wife and five kids and stay involved in his community. He currently serves on the board of directors of the Cache Valley Chamber of Commerce. He and his wife, Melonie, spent years as foster parents and eventually adopted their foster children. David loves playing and watching all kinds of sports, including officiating high school sports, and won't turn down a good board or card game. Learn more about David by connecting with him on LinkedIn.