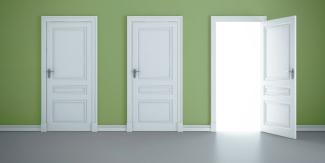 Why I Became A Financial Advisor
Have you ever had a moment where, on the path you thought was right for you, you encounter a new idea or an open door and everything changes? That may sound like a movie script, but it's essentially how I found my way into a career as a financial advisor. Here's the story.
The Beginning
Even though I had always had an interest in the stock market and the financial world, I decided to pursue a degree in computer science. Early on in this endeavor, I had a chance to visit a financial firm and see how financial advising worked in practice. From then on, I was hooked. I switched my major to finance and earned my bachelor's degree. I got my start in banking at a local bank in Salt Lake County. I had the opportunity to work in various positions and moved up the ranks because of my commitment to my customers. I began to develop a strong passion to help people meet their financial goals, increase and preserve their wealth, and minimize taxes. I didn't want to be a salesperson—I wanted to be my clients' financial advocate, advising them on the full spectrum of their financial life.
I moved into the role of financial advisor and spent almost 10 years working for Ameriprise and JPMorgan Chase and defined my vision for helping business owners and individual families bridge the gap between work and retirement. In 2015, I founded Bridgerland Financial and the rest is history! 
What I Do Now
Now, as founder and financial advisor of my own independently managed financial practice, I spend my days helping clients identify their financial goals and design a plan to get them there. With our client-first mentality, we build plans based on each individual's unique life, giving them confidence to replace uncertainty. 
After 20 years in this industry, I can tell you that there's nothing more fulfilling than helping my clients retire when they want and how they want, not worrying about where their next paycheck will come from. I am driven to work hard because I know that my clients trust me to help them with some of their most important decisions. This heavy responsibility pushes me to learn and grow so I can offer the highest level of service to my clients. 
The Next Step
Pursuing and achieving goals is much easier when you aren't alone in the process. A helpful guide and advocate can make all the difference. If you're interested in learning more about how I serve my clients, I encourage you to contact me today for a no-obligation get-acquainted meeting. Schedule an appointment online or reach out to us at david.packer@bridgetoretire.com or (435) 535-1630.
About David
David Packer is founder and financial advisor at Bridgerland Financial, an independently managed financial firm in Utah. With 20 years of industry experience, David serves his clients by helping them bridge the gap between their working years and their retirement. He provides tailored, comprehensive financial plans to his business owner and individual clients so they can retire with confidence. David has a bachelor's degree in finance and holds the Chartered Retirement Planning Counselor℠ (CRPC®) credential. Outside of the office, David loves to spend time with his wife and five kids and stay involved in his community. He currently serves on the board of directors of the Cache Valley Chamber of Commerce. He and his wife, Melonie, spent years as foster parents and eventually adopted their foster children. David loves playing and watching all kinds of sports, including officiating high school sports, and won't turn down a good board or card game. Learn more about David by connecting with him on LinkedIn.